Offer your attendees what they want: Networking & Interaction
The must-have for every event
Regardless of whether it is a presence event, hybrid event, online conference or virtual trade fair: the participants want to exchange and network with one another and be able to contribute interactively.
With the congreet event software, you as the organizer will meet these requirements and inspire your participants across the board.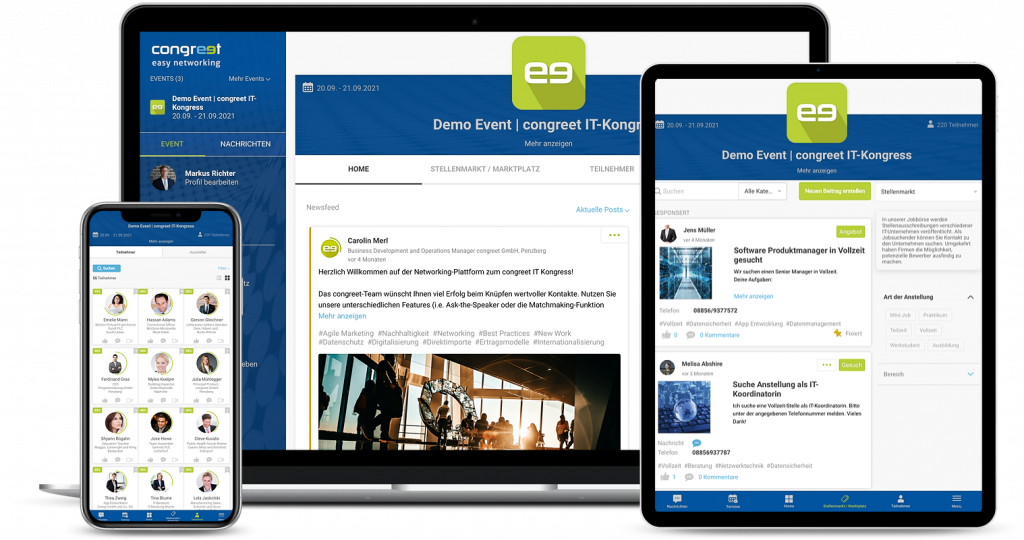 Benefits for your attendees

More relevant business contacts
Thanks to the matchmaking feature, the attendees are brought together on the basis of interests, competencies and fields of activity. This creates more relevant contacts.

More exchange and communication
The numerous communication options such as 1: 1 messages, group and video chats as well as the newsfeed ensure lively exchange and discussions among the participants.

More options for interaction
Through functions such as live votings and questions to the speaker, the participants can actively contribute and give their feedback and opinion.

All information about the event
Regardless of whether it is information about the lectures and speakers or lists of exhibitors. Attendees can find all important informations at a glance. 
Top features of our event software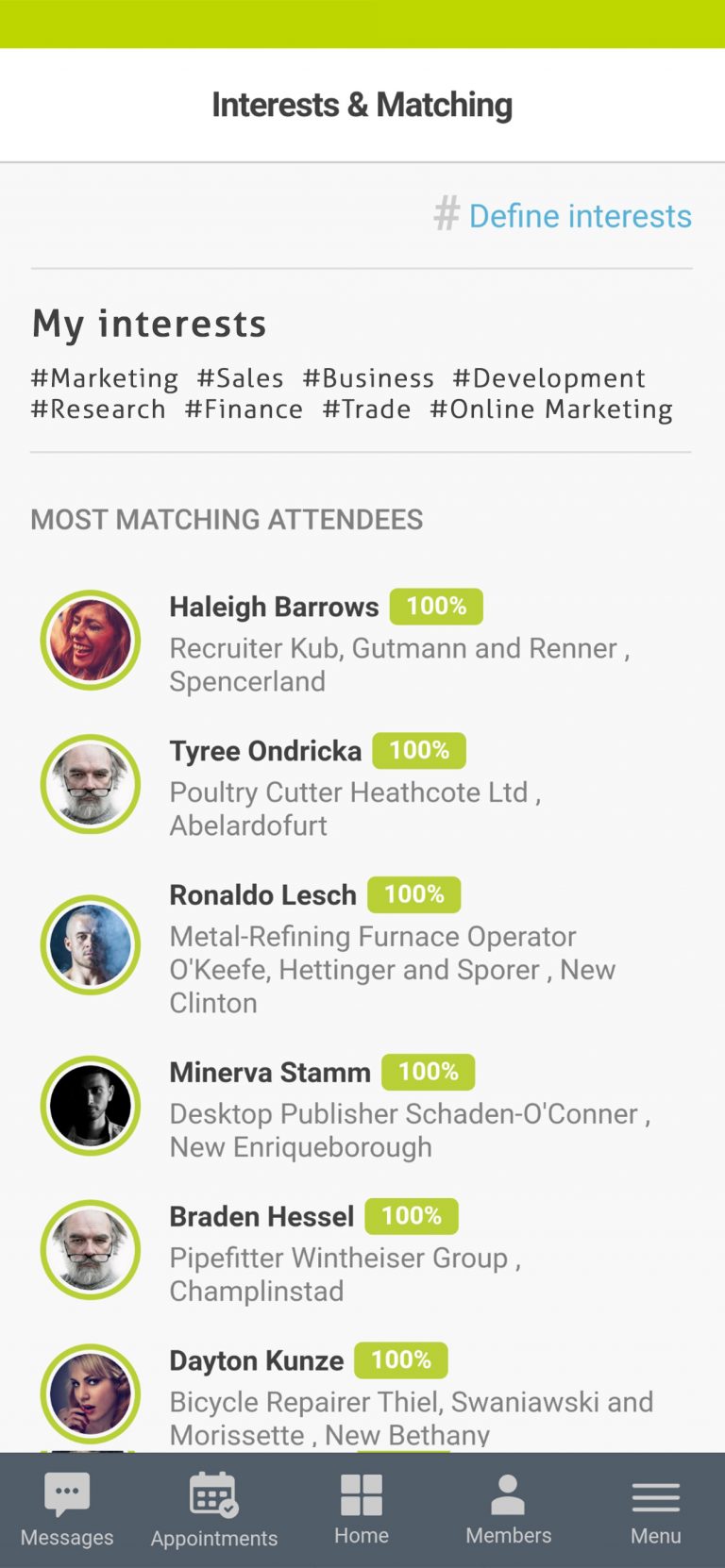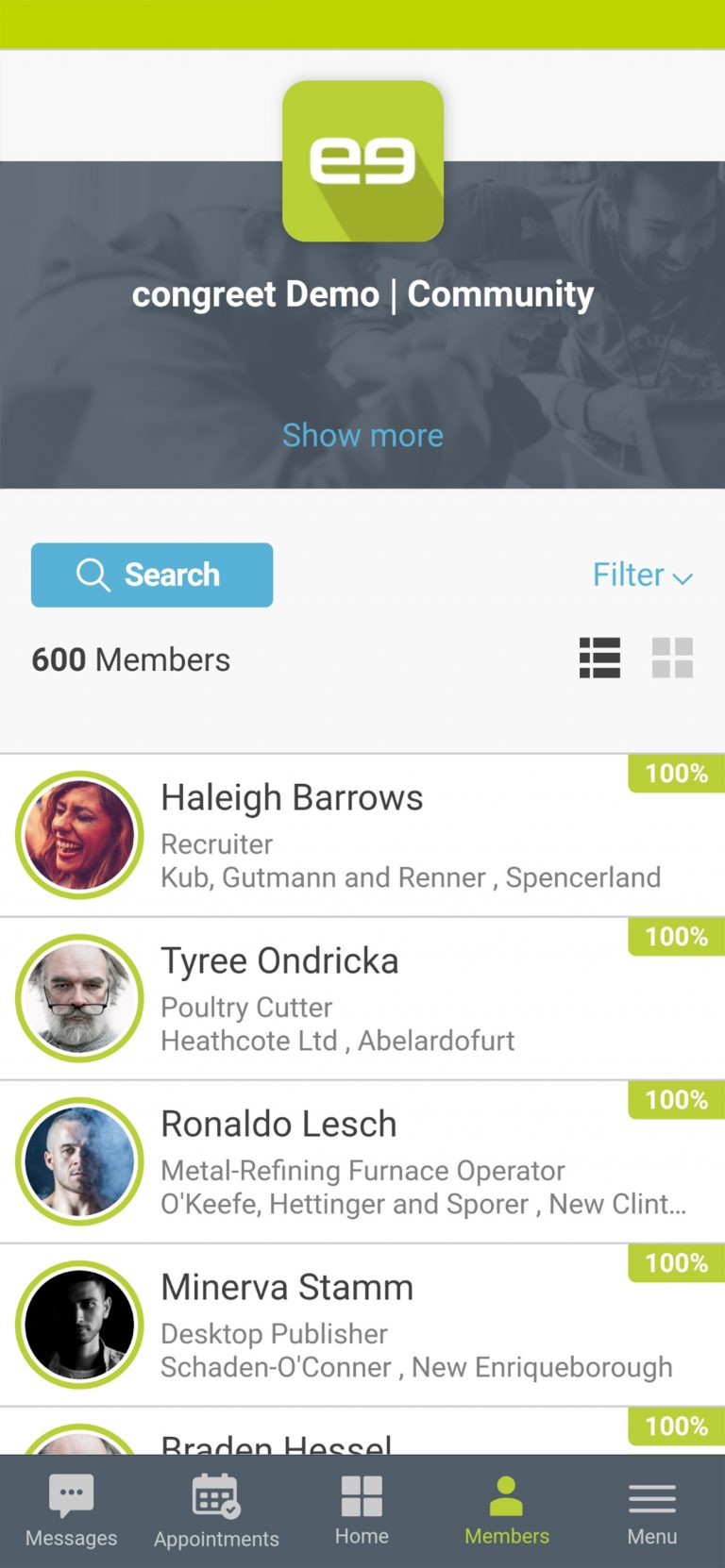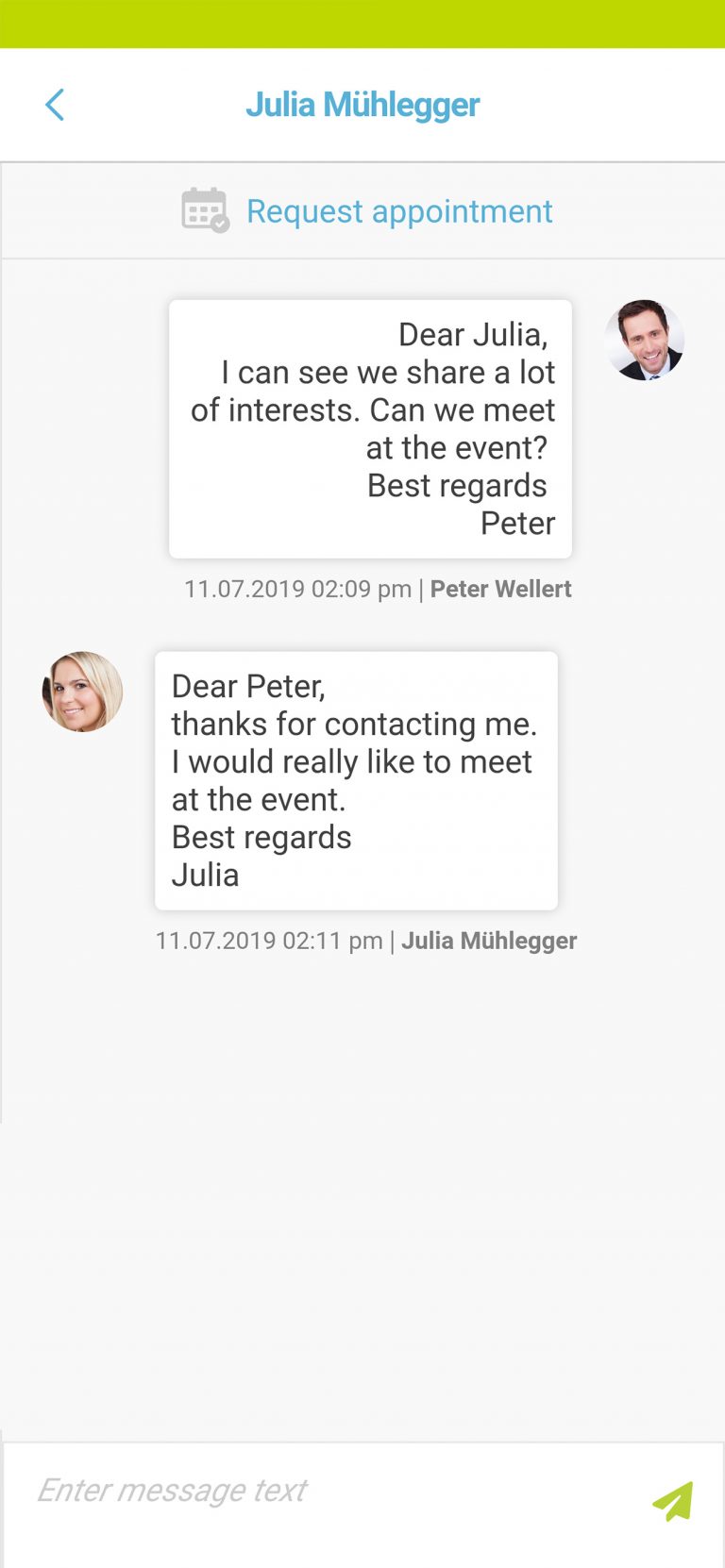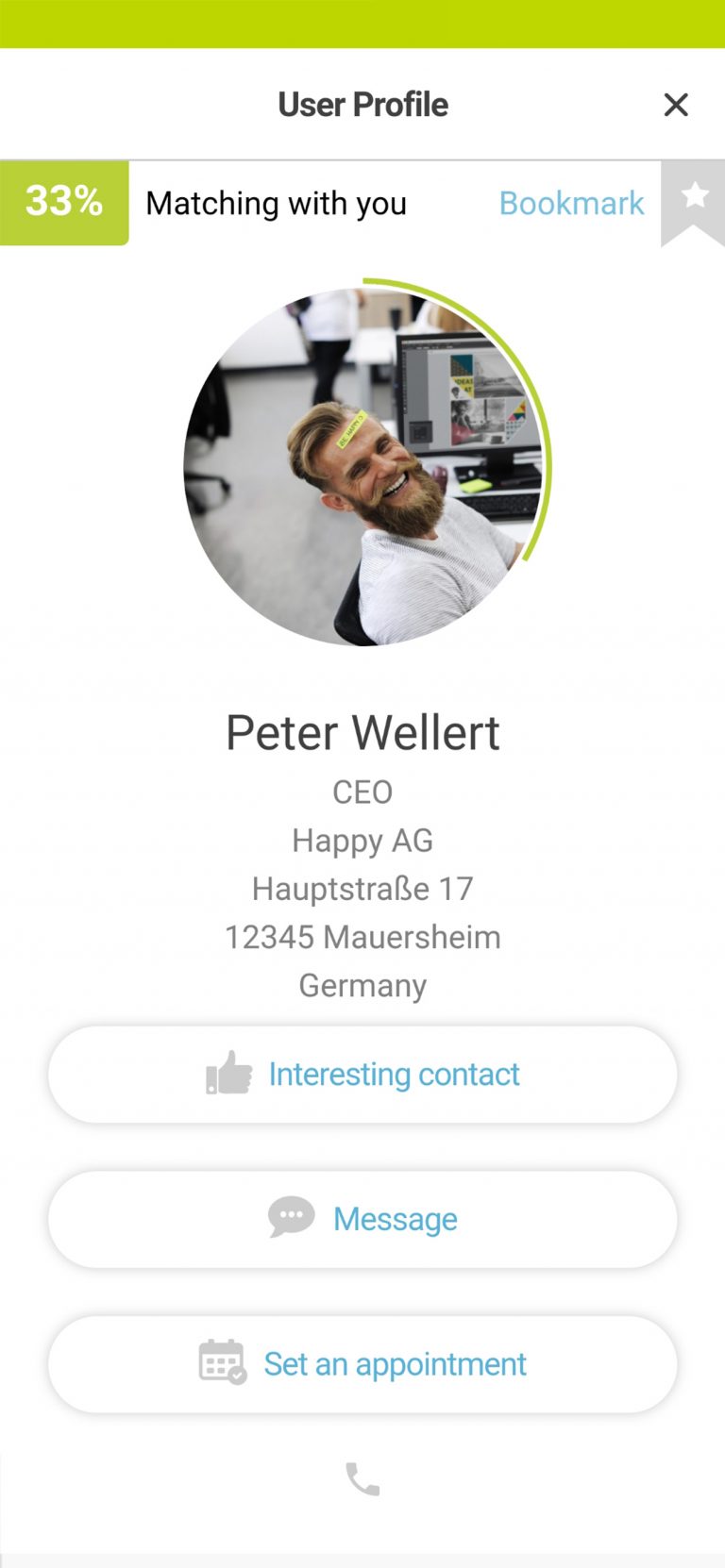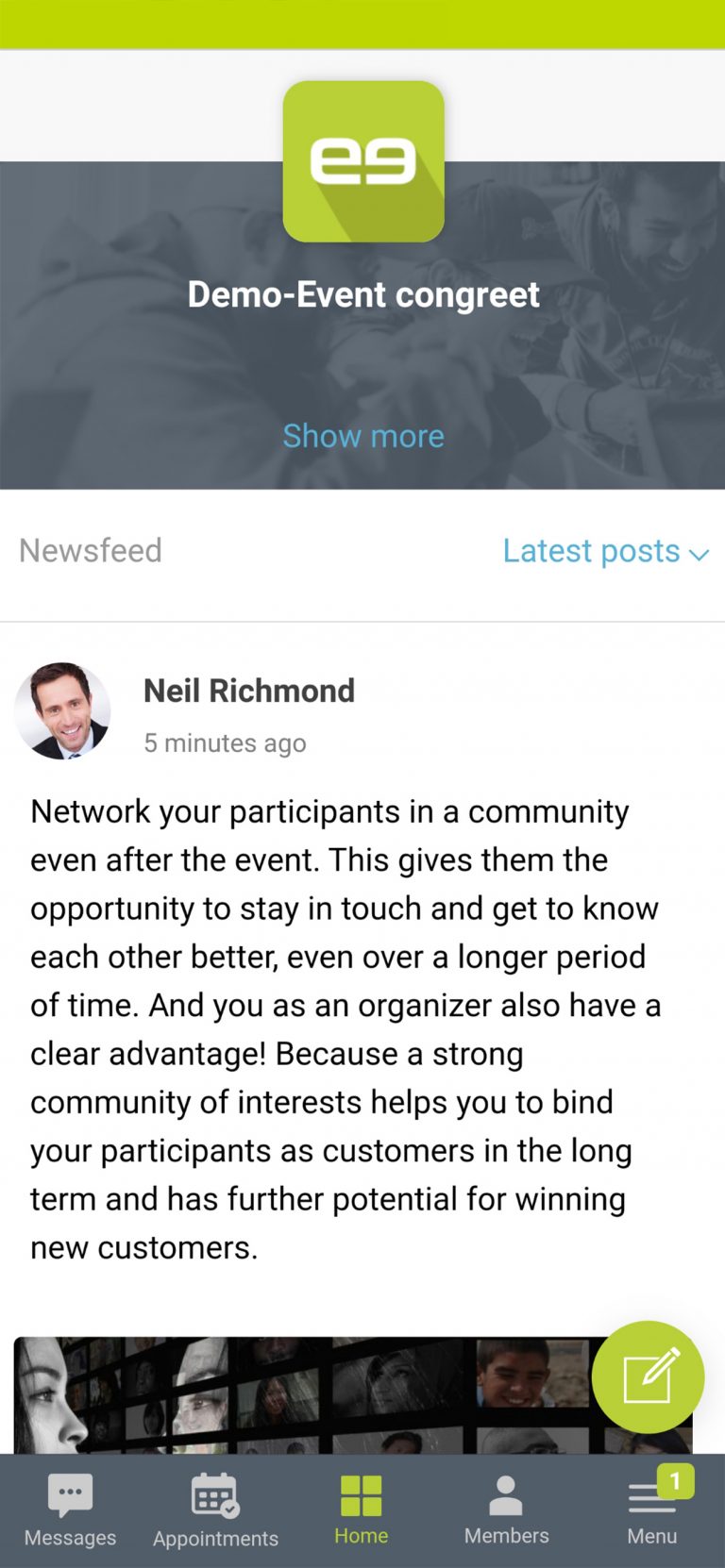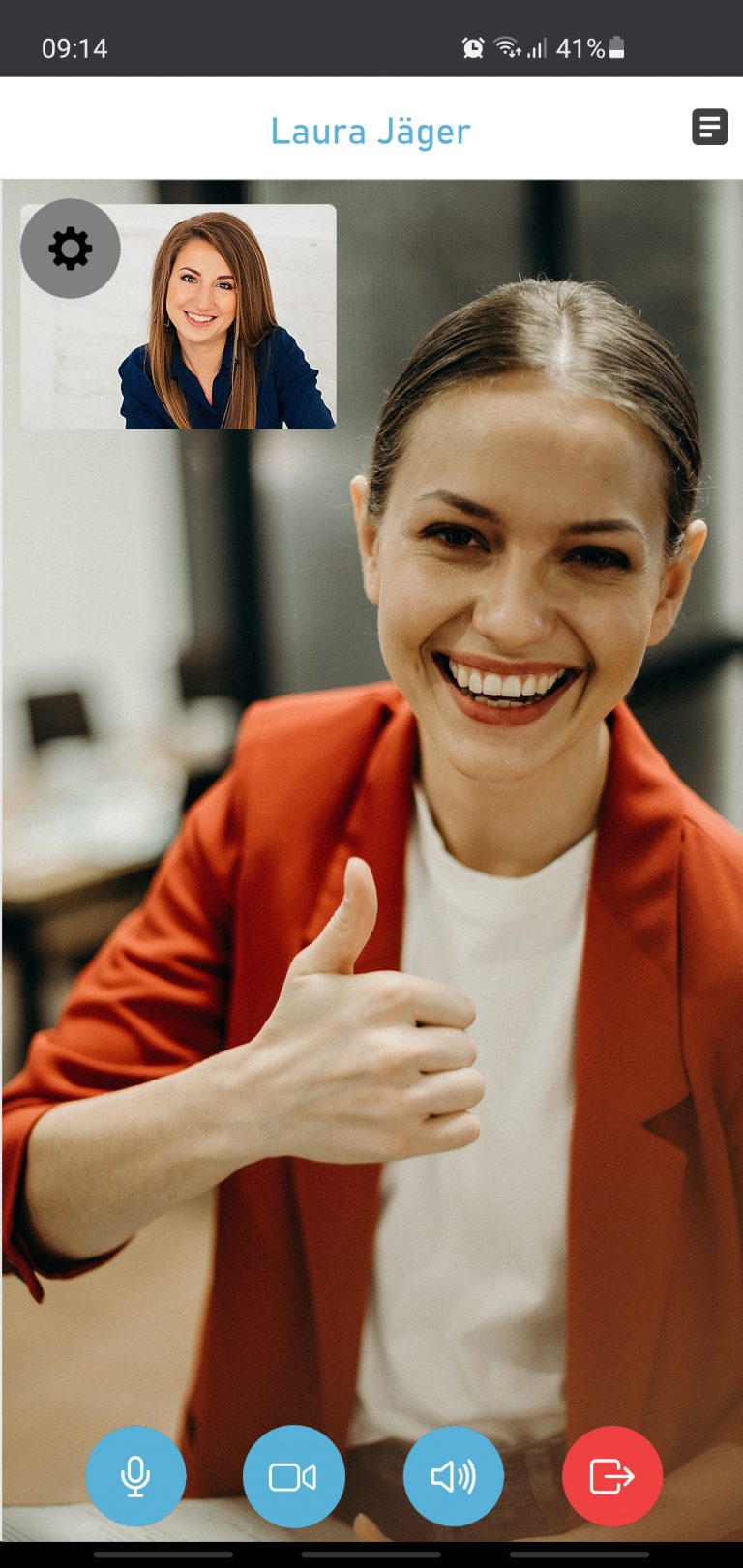 B2B - MATCHMAKING
The attendees can indicate their interests and fields of competence using predefined keywords in their profile. Relevant contacts are then suggested to the participants on the basis of this information.
KEYWORD-BROWSING
The attendee list can be searched via the free text search. The search by interests and competences filters participants who offer what others are looking for.
MESSAGES
Direct contact can be established via 1:1 messages and thus the professional network can be maintained or expande
PERSONAL PROFILE
Every member can create an individual profile with contact data, texts, pictures, resume, etc.
NEWSFEED
In the newsfeed all attendees can share posts, pictures, documents and external links with other participants of the event. An active exchange on event related topics initiated by attendees can then take place in the comments.
1:1 VIDEO CHAT
The video chat allows participants of events not only to communicate via text messages, but also to call each other directly via video call.
Advantages for you as an organizer
Innovative networking offer
With an innovative networking solution, you can still stand out from the competition and exceed the expectations of the participants here
Feedback from the participants
Enter into a dialogue with your participants and gather suggestions, feedback and opinions on lectures or other offers at your event.
Communication with the participants
Addressing the participants directly has never been easier. You can even send messages to specific groups of participants in a targeted manner.
Evaluation & statistics
Evaluate the activities on the platform and identify the trending topics, that are important for your attendees. Find out who are the top networkers at your event.
Inviting participants to network with congreet is now even easier. Link your congreet event with the largest self-service ticketing platform Evenbrite.
With every ticket order, your participants automatically receive an invitation to network with congreet.
Your App Version
In your Corporate Identity
*PWA – Progressive Web App: A progressive web application is a type of application software delivered through the web. It is intended to work on any platform that uses a standards-compliant browser, including both desktop and mobile devices. Source: Wikipedia