The networking app congreet has moved one step further in the direction of an event app with the "Ask the Speaker" feature. What used to be solved by a circulating microphone in the audience now works quite simply via the app. All participants can ask questions to the speakers.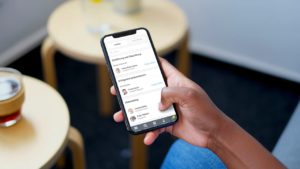 Organizers can make events and conferences even more interactive and encourage participants to join in. Especially for participants who don't like to be the center of attention, the ask-the-speaker feature offers a good opportunity to get involved.
Participants can easily select the speaker they want to ask a question to in the app. They can then send the message personally or anonymously via a messenger. The questions are sent to a central administration page. The organizer or another responsible person manages the incoming questions. Questions that are inappropriate or have been asked more than once can be rejected.
A presentation area displays all approved questions and the speaker can answer them. All answered questions automatically disappear from the screen after 10 seconds.
There are more than ten speakers at your conference?
For events with a large number of speakers, there is the option to show only the speakers who are currently giving the presentation. This ensures that the list of speakers is not too long and confusing.
The tool is used extensively – too many questions?
Start by giving the speaker the questions that are relevant to the entire audience. You can also answer other questions to the participant afterwards by direct message.
Just remember that you must communicate this note to your audience. Also that this is not possible for anonymous questions.
Questions are submitted after the presentation?
Again, there is the possibility for the speaker to answer the questions by direct message afterwards. The system saves messages even if the speaker is no longer visible to participants. This enables detailed postprocessing and evaluation.
Together with live voting, the "Ask the Speaker" option offers the optimal package to bring more interactivity to your presentations. Your speakers will love it!