Matchmaking is the central component of the congreet software. Organizers define so-called matching lists for their event or community, which contain topic-related interests and search terms. The participants select these according to their profile. The system then selects the most suitable contacts and suggests them to the attendees.
congreet calculates a percentage to weight this proposal list. 100% means that the other participant has also selected all interests and search terms.
Matching as an event key feature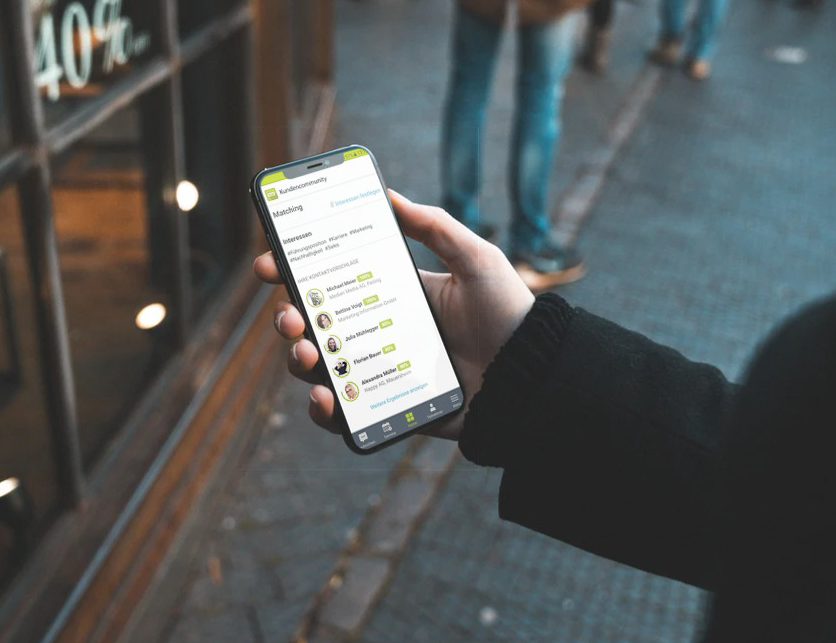 The main benefit of congreet lies in this matching function. If there are many attendees at an event, it becomes difficult to find the right person to talk to based on small talk. congreet takes on this task and presents a selection of interesting attendees. These can be contacted in advance via the integrated messenger. Also, the integrated appointment coordination function allows you to quickly find a suitable date on site. If a participant does not find the matching interests and search terms in the matching lists, he can suggest them. The organizer checks them and then releases them for matching.
Targeted matchmaking with different groups of attendees
The organizer can restrict the matching depending on the different groups of attendees. This is useful for job fairs, for example. Here it is possible to activate matching only between applicants and job providers. Applicant profiles can also be hidden from each other if the appropriate settings are made. This provides the necessary discretion for job seekers. Further information on different rights and possibilities can be found in the article "different groups of attendees".
Matchmaking in Communities
The matching function also offers added value for members in communities. They can see at a glance who shares their interests and is therefore interesting for contacting them. If the newsfeed is active, there is a new item in the menu called "Interests & Matching", where the interests can be defined and where the contact suggestions are located.
It's a Match
100% matching is rather rare, depending on the definition of the matching lists. If a participant chooses different interests, for example cooking and car repair, a 100% match is only possible if another person also has this combination. If another attendee has only chosen car repair, this may also be the optimal interlocutor for this topic, but has only a 50% matching. It is important to understand the suggestion list as a presorting. A glance at the personal profile usually provides information as to whether further contact is interesting. Well thought-out matching lists, with the so-called keywords (interests and search terms), support networking between your members and event participants.