The basic idea of a community is the cross-linking of the members and the exchange among each other. If the internal news feed is active in the congreet software, all members can share posts, images, documents and external links with the (event) community. Using the comment function, an active exchange on various topics initiated by members can then take place.
The essence of congreet software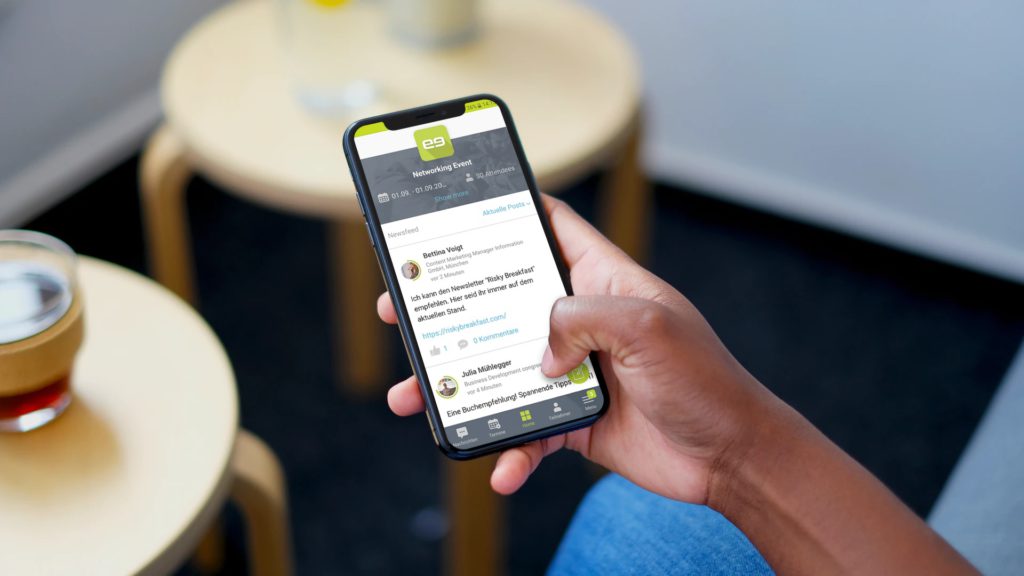 The newsfeed is the centerpiece of the software along with the matchmaking and is directly visible to participants in the "Home" tab. Every user has the possibility to publish individual contributions and to provide them with the keywords of the matchmaking. These keywords reflect the interests of the participants. Thus, not only interesting contacts can be found based on the selection, but also relevant contributions can be filtered. If participants set a filter on their own interests, only posts on topics that interest them will be displayed.
As with other social networks, there is a like and comment function to encourage active exchange among community members. If a posting is commented on or marked as interesting, the author receives a notification via push message or e-mail. Comments can be deactivated by the organizer at any time.
If users consider the frequency of a user's postings to be inappropriate or disturbing, anyone can mute this user and thus hide the postings. If the opinion changes, postings can be reactivated at any time.
Additional functions for organizers
Some features help event organizers or community owners monitor and organize the contributions that participants post. For example, every administrator has the right to delete, hide or modify content to keep unobjective contributions out of the community.
In addition, administrators also have the option of publishing their own contributions and thus additionally deliver valuable content to their (event) community. Selected contributions can be fixed at the top of the newsfeed and are thus always directly present to the users.
Advertising options in the newsfeed
In addition to broadcasting, the newsfeed opens up a further opportunity to gain visibility within the community. Therefore, sponsored contributions are a good advertising opportunity. Administrators of the event or the community can publish contributions on behalf of companies or other publishers and mark them as sponsored. Or, of course, in their own interest, publish advertising content with this marking.
---
The news feed can be activated within the community as well as in the event networking software.