The video chat module for group chats makes it possible to enter into a personal discussion with several participants at the same time within an (event) community. A perfect way to map breakout rooms, conduct smaller workshops or enable group discussions. Chat rooms with up to 250 participants can be opened directly within the congreet software.
Each participant has the possibility to activate microphone and camera as well as to share his own screen with the group – thus a lively exchange is guaranteed.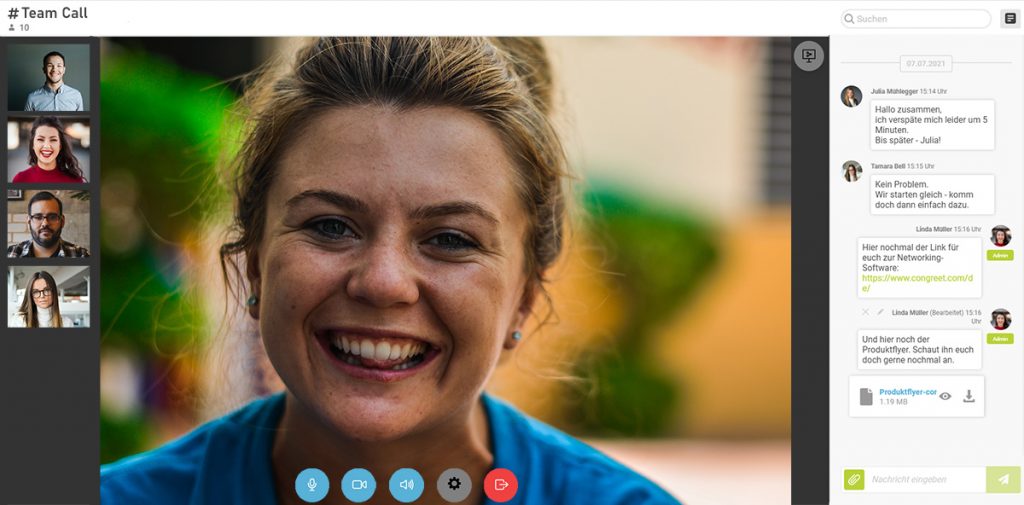 Video chat in groups
Chat groups can be created by organizers or, depending on the settings, by participants themselves. Organizers can now decide whether all, individual participant groups or only the administrators are allowed to add video chats to chat groups in the backend. If the functionality "group video chat" is activated, all participants of the chat group can join the video chat via button. A parallel text chat of the chat group helps to communicate even in case of audio and sound problems. Additionally, there is thus a possibility to share links or documents with the video chat participants. This conversation is still visible within the group chat even after the video chat has ended.
Notification when someone starts the video chat
When a room is started for a video call within a chat group, all participants of the group chat receive a notification that a participant has started the call. This notification contains a button that allows other users to easily join the video room.
Video meeting
If the video chat is active in events or communities, online appointments can be made with several participants. If the "video call" option is activated during appointment creation, all appointment participants receive a link to the meeting room. A joint text chat is automatically created in parallel to allow messages, links and documents to be sent here as well.
How it works
Activate the video chat generally for your event or community. If this option is not part of your existing contract, please contact us and we can add the module.
Now you can decide for individual participant groups whether video meetings should be possible. You will find this setting directly when you activate video chat. In the next step, you can use the group chat function to define settings for video chat within the chat groups.